As an authorized distributor for Vendo machines, AECO Sales & S ervice offers full support in helping you determine what machine(s) and their configuration best meet your locations needs.
If you are in need of parts, we carry a wide assortment of Vendo parts in stock. Parts that we do not stock can be normally obtained within 24hrs (depending on availability.)
Click here to view all Vendo parts manuals
Please feel free to call us at (800) 682-0358 or by e-mail to inquire about new merchandise or parts.
V-21 Series
The V21 series offers the flexibility you need for different sized locations.
Four different model sizes allow for varied Can/PET capacity and shimless
vending of bottles and cans provides for optimal product mix and maximum
vending profits. Aesthetically, chose from varied graphic fronts or the live
display model to best suit the location.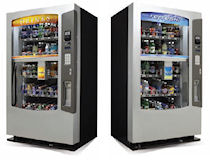 Vue 30/40 GFV
The Vue30/40 Glass Front Vendor is a culmination of the latest in
vending technology and aesthetic design. The flexible dispensing
mechanism allows it to vend virtually any beverage package and
requires no shims or kits. The glass front involves the consumer in
the vending process which adds to customer appeal and peace of mind.