As an authorized distributor for all AMS products, AECO Sales & service offers full support in helping you determine what machine(s) and their configuration best meet your locations needs.
If you are in need of parts, we offer direct from the factory delivery on all parts not presently carried in our stock.
Click here to view all AMS parts manuals.
Please feel free to call us at (800) 682-0358 or by e-mail to inquire about new merchandise or parts.
Sensit Snack
+Click to Enlarge
The AMS Sensit® Snack vendor provides the customer with a wide selection of options, including different helix configurations and pitch openings. Refrigeration is also available on this vendor. These snack machines are available in two cabinet widths: 35" and 39".
Visi-Combo
+Click to Enlarge
The VISI-COMBO has two bottle trays that use the same helix delivery system as the snack trays. These machines have a 96-bottle capacity with the ability to vend various size bottles and is chilled by a 1/2 plus hp compressor. The three snack trays can be configured to any combination of snacks or candy helixes.
Glass-Front Deli
+Click to Enlarge
The Glass-Front Deli is perfect for workday lunchrooms. The Deli is adjustable to suit the particular size of the products offered. In addition to entrees, employees can also choose snacks and beverages. The Glass-Front Deli is available in a 39" width, MDB and DEX capable, and health and safety compliant.
Bottle & Food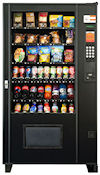 +Click to Enlarge
Sandwiches or subs and other foods, along with bottled dairy beverages, can all be dispensed from this versatile bottle and food combo. While various configurations are available, basic models feature three trays of food and two of dairy (197 units in 35'') and four trays of food and two of dairy (241 units in 39'').
Milk Machine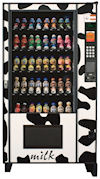 +Click to Enlarge
The Milk Machine has a capacity of 240 bottles in a 5-tray (35'' width) or 288 in a 6-tray (39'' width) config. It utilizes the 1/2 plus hp refrigeration unit and has added insulation in the door. This vendor also includes the same health-and-safety function in the software as the VISI-DINER to eliminate vending unsafe products.
The Outsider
+Click to Enlarge
The Outsider is a outdoor vendor offering a choice of Snack and Visi-Combo (snack and bottled beverage) configs. A heavy-gauge steel lock-cover, additional glass-front protection, and vandal panels add to all the other standard features to make this machine just what you need for the outdoors.
HealthyVend
+Click to Enlarge
HealthyVend from AMS is perfect for offices or for schools, where good nutrition is often a required course. HealthyVend can offer vegetables, fruit, cereal bars, fish products, string cheese, juices, dairy -drinks, and almost everything from soup to nuts.
Frozen Food
+Click to Enlarge
This attractive and rugged vendor offers two levels of freezing. One is for items such as ice cream and the other is for microwavable products. In addition, the efficient hot-gas defrosting system does not need a heating element. This vendor is ETL and NAMA certified.
Slim Gem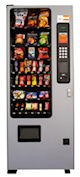 +Click to Enlarge
The AMS SlimGem and WideGem Merchandisers are for vending products not in need of refrigeration. Since they don't need insulation, they cost less. The SlimGem saves space too. It's only 28½" wide and 29½" deep.